Class Assemblies
Class Assemblies are a fantastic opportunity for the children to show what they have been doing in class and to use their performance skills. The children love to perform to friends and family and the rest of the school really enjoy watching!
Year 3 Assembly
Class 3 presented a fantastic assembly to their friends, families and teachers. They told us all about their topic work In The Community. They showed us their wonderful model flood houses they made during their Design Technology lesson!! They also performed a super Sign to Sing song about friendship!! WELL DONE Class 3!!!!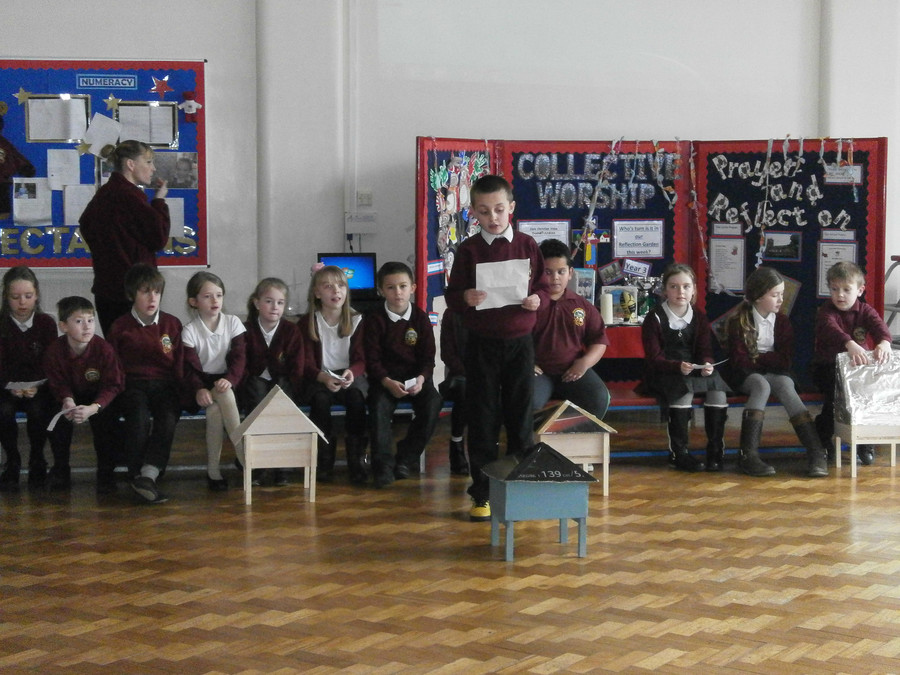 Class 6 Assembly
On Wednesday 7th October, Class 6 performed a Class assembly based on the poem 'The Highwayman'. We thoroughly enjoyed practicing and performing our play. All of the actors costumes were great and everyone enjoyed watching them. Thank you to all the parents, carers and friends that came and watched!!
By Alexander Smith & Rohan Shaw, Class 6
Class 1 & 2 Assembly
Class 1 & 2 treated us to wonderful assembly this week. They told us all about their topic work 'New Life'. They showed us their fantastic art work and did a great job reading out loud to everyone! It was lovely to see so many parents, grandparents and carers come to join us for this special assembly.
Class 3 & 4 Assembly
During Spring 1 term Class 3 & 4 presented a fantastic assembly telling us all about their topic work about Brazil and de-forestation. Class 3 acted out scenes from a book they have been reading in class called The Great Kapok Tree. Class 4 showed us their fantastic Samba drums and carnival masks that they have made. Together they performed a wonderful Sign2Sing song for us which was part of a world record attempt of as many schools to be signing and singing at the same time!! It was excellent!!
Well done Class 3 & 4!!
During the Autumn term 2014 Class 5 and 6 presented a celebration assembly and proudly showed off their work to friends and family. They told us all about what they had been working on in school! They presented their topic work which was 'Where In the World' and they showed us their fantastic Aboriginal drawings. It was a very interesting assembly, thank you Class 5 and 6!!
During the Spring term, Key Stage One presented a fantastic assembly based on animals which was the topic they had been learning about. They showed their drawings which were based on the artist Henri Rousseau!! They played us music from Carnival of Animals and they sang From the Tiny Ant.
It was a fantastic assembly!!
In February, Class 3 entertained us with a fantastic assembly! They started by showing us the brilliant sign language they had been practicing for Sign 2 Sing. We then met the Pharaoh and learnt lots of things about life in Ancient Egypt for kings, farmers and dancers. We learnt some hieroglyphics and listened to an Egyptian story. To finish Class 3 performed a fantastic and catchy song about Tutankhamen! Well done Class 3! You were superstars, we are very proud.
In November, Class 4 shared all their wonderful work with us. They performed music with the violins, showed some super art work, told us about their Science investigation and did some fantastic Indian dancing. we loved it so much we asked them to dance again so we could join in! Well done Class 4! Brilliant!